Another Reason to Run a Used Car History Report
Our tips help discover a dealer selling a wrecked vehicle
A car buyer named Scott educated himself here on CarBuyingTips.com before rushing out to buy a used Toyota Corolla. He was sure glad he read our advice before heading out to shop. First he uncovered something seedy and illegal that that the car dealer tried to pull on him. Then with the education he received here, he also discovered something shocking about the car he was about to buy, we saved him a huge potential loss. What were the issues that Scott uncovered?
Federal law car dealers must obey when selling you a used car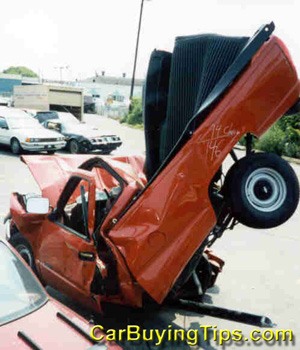 The Federal Trade Commission's Used Car Rule requires that dealers selling used cars must post a Buyers Guide disclosure form on the window of a car before they offer the used vehicle for sale. We know that they break this rule all the time with hot air excuses to support it, but the FTC says that a vehicle is offered for sale when a dealer displays it for sale or lets you test drive it for the purpose of buying it.
The Buyer's guide is taken very seriously by the government and it is a violation of federal law (16 C.F.R. 455) to list a car for sale without this form. Well guess what, Scott discovered the dealer was trying to sell him this Toyota without that form in violation of federal law. He knew from our site to grill the salesperson about this common practice.
What is contained in the FTC Buyer's Guide?
First, it tells you if the car is sold "as is" or if it has a warranty. It also tells you if the dealer will pay for any needed repairs. Salespeople love to verbally promise all sorts of repairs to be made to your car, "just sign here now and bring it back to us next week, we'll get it all fixed." Then they develop amnesia next week when you bring the car in and expect them to honor their word. I got an idea, how about we make the dealer fix the things that are wrong first and then we sign! The guide also warns you that oral promises are difficult to enforce and that you should get all promises in writing. You can see why some salespeople don't want you to see this, because now every bogus "promise" they make just to get you to sign the dotted line, they actually have to be honored in writing. "Oh sure, we'll give you a free set of cargo mats, just stop by on Monday and ask for Bob." The dealer is also supposed to list the known issues with the car on this form.
Lastly, the guide tells you to get a third party inspection on the car before you buy. This is part of the very core of our used vehicle buying strategy that we tell every single consumer who lands here:
Always run a vehicle history report on the used car before you buy it
Have a mechanic put that car on a lift for inspection to find any issues
If you do not do these 2 steps, then do not buy the car.That is my cardinal rule for all of you. I keep pounding the tables to drive this point home, but unfortunately, not everyone listens to me and think nothing will happen to them. Lucky for Scott, he indeed listened and he wondered why there was no buyer's guide on the window. The salesperson lied and said "the car just came in and we did not have time to get the form on it." We all now know they are breaking the law. because they must have that on the window before they even show you the car. The dealers usually have compliance people whose job it is to make sure these things get done.
Scott made a shocking discovery
So we trained Scott to be his own compliance officer and this scam made him even more suspicious, so he then headed for the vehicle history report. There he found even more disturbing news. Scott had performed our Step #1 mentioned above, and that is what saved him. He noticed on the Vehicle History Report, that the car was shipped with an exterior color of green and now he was staring a car thats charcoal gray in color. This made him very weary of this car. When the dealer came back with the signed buyer's invoice, Scott asked him to have "ACCIDENT FREE" printed on the form and have it also signed by the dealer and manager and they refused to do it. End of sale right then and there. Scott walked out the door. Our fellow consumer advocate friend James Bragg used to say, the reason God gave you heels is to show them to salespeople.
Scott told us "I would've never have caught this if it wasn't for this great site. You saved me from buying a car around $16,000 that was most likely in an accident. The accident was not reported because it was a personal lease from the dealer and the dealer also had the work done on the car so they didn't have to report anything. This dealership will never see my business again."
Well said, compliance officer Scott!

About The Author: Jeff Ostroff is a consumer advocate, Founding Editor and CEO of CarBuyingTips.com overseeing a team of expert authors. For over 17 years, he's been the recognized authority on car buying, leasing, used cars and financing. He developed sophisticated spreadsheet tools to help consumers negotiate on a level playing field. He is a widely sought out guru, cited by the press for his expertise in savvy car buying and preventing consumer scams. Jeff has been quoted in CNN, Bloomberg, MSNBC, Wall street Journal, Consumer Reports, NY Times, Reader's Digest, and many live call in radio shows. He has covered the automotive space since 1997. Jeff also has extensive experience and expertise in selling used cars for clients on eBay and Craigslist. Connect with Jeff via Email, Twitter or on Google+.