Always Verify Your Car's Mileage

By Lyle Romer, Consumer Advocate
Published February 29, 2016
Dealers and Other Service Centers Can (and Do) Make Mistakes!
Do you ever see the service advisor walk around your car with a pad when you are checking your car in for service? He is writing down critical information like your VIN and, very importantly, your mileage. This information must get transferred into their computer system and that is when mistakes get made. The advisor is writing quickly to move the process along and may not be able to read his own writing when he sits down at his computer terminal. Alternatively, an administrative assistant may enter the data which makes mistakes even more likely.
Verify the Mileage on the Paperwork Every Time
If your car is still covered by the manufacturers warranty and you are bringing it in for a repair, the mileage information needs to be correct so that you get coverage. If you have 27,000 miles on the vehicle and it gets entered as 37,000 miles the coverage will be rejected if the warranty only covers 36,000 miles. However, this type of error will get found and corrected quickly. Either the service advisor will notice it or you will start yelling and cursing at him when he informs you that you will have to pay $1,000.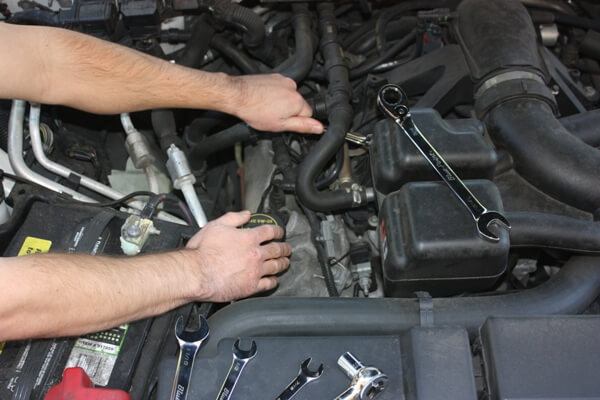 It is a different case if you were just bringing the car in for maintenance or a new set of tires. Nothing will happen that will highlight the error to you at the time because you were planning to pay for the service anyway.
Since there are many cases where you won't be alerted to the issue, you must check the paperwork ever single time you bring your vehicle in for maintenance or service. If the mileage is not correct, don't leave the service center until they correct it.
Why Accuracy is Important
If it doesn't effect warranty coverage, you might not see why there is an issue if the mileage was entered incorrectly. The reason is that the companies that provide vehicle history reports buy the service records to include in their report. If the wrong mileage was entered in the system, there is a high likelihood that it will end up in a report. Depending on the severity of the error, it could make your odometer look like it was rolled back.
A rolled back odometer is going to be a huge red flag to any potential buyer or dealer considering taking a car on trade. The best case is that it will cost you a lot in the sale price and the worst case is you won't be able to sell it at all.
Real Life Example
One of our editors here at CarBuyingTips.com felt the full effect of one of these errors when he went to sell his 2008 Ford Expedition. We'll protect him from embarrassment and call him "John." It was in very good condition and had 130,600 miles on it. When he got contacted by an interested buyer, he set up a meeting for a showing and test drive. At first, everything seemed to be going well and he thought that he was going to get a solid offer to purchase the SUV.
Upon finishing the test drive, the buyer said, "there is just one thing." You never want to hear these words from a potential buyer. The buyer showed "John" the CARFAX report that he pulled up on his smartphone. It showed a service record that indicated the vehicle had 172,286 miles on it. You can see a screen shot of the actual record below. "John" was shocked by this revelation and was asked by the buyer if he had rolled back the odometer.

Needless to say, the negotiation stalled. "John" called the dealer where it was serviced and they realized the mistake. When they wrote the mileage, the 2 on the paper looked like a 7 and got entered that way in the computer. They updated the system but it was too late. It takes several days for CARFAX to receive and reflect the new data. Before it could be corrected, "John" was forced to trade the car in for several hundred dollars less in value then he could have sold it for.
Of course, there is no guarantee that a service center will admit the error several months after the fact. They might not take your word for it and it may be very difficult, if not impossible, to have the mistake corrected.
Prevent this from Happening to You
It is simple and free to make sure that this situation never happens to you. All it takes is a few seconds to look at the service paperwork and compare it to the actual vehicle mileage. Don't cost yourself hundreds or thousands of dollars by not glancing at the mileage on the paperwork.

About The Author: Lyle Romer is a consumer advocate, Founding Contributor and Vice President of CarBuyingTips.com. A 20 years veteran of the auto industry with a high level of expertise, Lyle has been researching all aspects of the automotive sales industry.
Lyle's expertise and research played a vital role during the creation of CarBuyingTips.com in 1999 after years of industry research. He carefully observed every aspect of his own car buying experience as the internet began to take a foothold in the process. He also designed the site to make sure that consumers had easy access to the best consumer advocate education.
Lyle has been an auto industry insider since 1999. He also has worked with other automotive websites to help improve their offerings based upon feedback from CarBuyingTips.com users. He covers important industry events and gathers off the record sources while attending industry conventions.
Connect with the author via: Email