2015 Ford F-150 Aluminum Truck Awarded NHTSA Coveted 5 Star Safety Rating

By Jeff Ostroff, Consumer Advocate, Editor-In-Chief
Published April 15, 2015
When Ford announced the 2015 F-150 pickup truck would be made partly from aluminum to shed 700 pounds off the truck, and improve fuel economy by 20%, this raised a few eyebrows. It caused quite a stir in the automotive press. Many back seat "pundits" questioned whether or not this new aluminum truck would be strong enough or safe enough in a crash.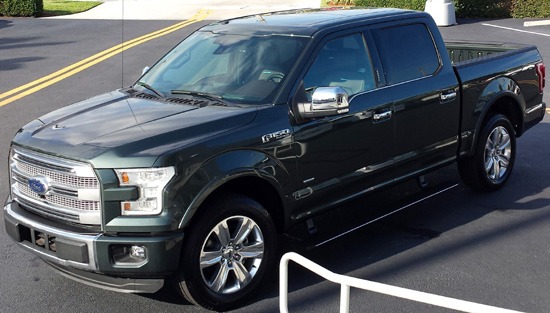 But the National Highway Transportation Safety Administration (NHTSA) pretty much shut everyone up with the release of their findings of their crash test data for the F-150, which they awarded their coveted 5-Star Safety Rating.
Remember when you compare vehicle crash test data on NHTSA's web site safercar.gov, keep in mind NHTSA introduced tougher tests and more rigorous new 5-Star Safety Ratings for 2011 and newer vehicles, so you can't just compare ratings of this year's vehicles to ratings for 1990-2010 vehicles. Don't compare these numbers to your 2009 F-150, for example, it just won't work.
NHTSA also warns us that overall vehicle score and frontal crash ratings should only be compared to other vehicles of similar size and weight. So don't compare the test results of a Ford F-150 pickup truck to a Honda Accord, expecting to compare apples with apples, hoping to shape your buying decisions on that foolishness.
So far, NHTSA has only crash tested 2 Ford F-150 models with a vehicle test weight of 5,060 pounds:

2015 Ford F-150 Super Crew pickup truck 4x4
2015 Ford F-150 Super Crew pickup truck 4x2
Both pickup trucks are the 4-door model and they both received an overall 5-Star rating with the following breakdown by crash categories:
Frontal Crash: 5-Star rating
Side Crash: 5-Star rating
Rollover: 4-Star rating
The data from their crash testing shows a 19.1% chance of a rollover, probably why it only earned 4 stars on the rollover crash test instead of 5 stars. Still 4 stars are pretty good. I'm happy with that, unless you're one of the unlucky 19.1% in a rollover.
As of this writing, there are no recalls, no Engineering Service Bulletins (ESB), no safety issues and no investigations to report on the F-150. But there was one complaint registered with NHTSA. Some man claimed he was just sitting parked in his F-150 doing nothing when the windshield cracked for no apparent reason. Not sure I'm buying that story.
I am not surprised the F-150 scored so well, especially when we reviewed the 2015 Ford F-150 Platinum 4x2 Supercrew with 3.5L EcoBoost and Aluminum Body back in January. One standout that we noticed, which you'll see in that blog post and our photos about this truck was the inflatable seat belts.
As we mentioned in our blog, those inflatable rear safety belts are included in the F-150 SuperCrew models. These inflatable belts help distribute crash forces across more of your torso than a traditional skinny safety belt. By inflating during a crash, these safety belts end up looking like a beauty contestant sash instead of a seat belt.
I was never concerned about the use of aluminum at all in these trucks. The only disadvantage I can think of is repair costs; most body shops charge twice as much to repair aluminum than steel. It also takes twice as long for car repair shops to repair your damaged aluminum vehicle.
Other than this one disadvantage, at least you can expect to arrive alive in your pickup truck. You can see the NHTSA 5-Star Rating report for the F-150 here:
safecar.gov - 2015 Ford -F-150 Super Crew
This should help you decide if this vehicle is safe enough for you to own.

About The Author: Jeff Ostroff
A lifelong consumer advocate with over 20 years of unparalleled expertise, Jeff is the Founder, CEO and Editor-In-Chief of CarBuyingTips.com. As chief consumer advocate, he oversees a team of experts who cover all aspects of buying and selling new and used cars including leasing and financing.
For decades, Jeff has been the recognized authority on vehicle purchasing, sought out often by the media for his decades of experience and commentary, for live call-in business radio talk shows and is cited often by the press for his expertise in savvy car shopping methods and preventing consumer scams and online fraud. Jeff has been quoted in: CNN, MSNBC, Forbes, New York Times, Consumer Reports, Wall Street Journal and many more.
Jeff also has extensive experience and expertise in new car brokering and selling used cars for clients on eBay and Craigslist. Connect with Jeff via Email or on Twitter.