2015 Barrett-Jackson Palm Beach Auction Saturday Update

By Lyle Romer, Consumer Advocate
Published April 18, 2015
As West Palm Beach dried out from yesterday afternoon's monsoon and the sun rose on Saturday, day 2 of the 2015 Barrett-Jackson Palm Beach Auction got started. We arrived a bit early to avoid the traffic so we were able to observe some of the automobilia auction.
Anticipating the class of the cars increasing, the crowds have increased substantially. There is a veritable sea of people everywhere you look. Now I know what it is like to be a salmon swimming upstream!
Signs, Signs, Everywhere Signs
Towards the end of the automobilia auction, they brought out a bunch of classic signs. It was amazing to watch as people bid more for the signs than they bid on some of the cars. A 1930's Ford V8 Neon Dealership sign sold for $18,200 including the buyer's premium and a classic Chevrolet sign went for $29,120 including the buyer's premium. There are a few new Chevy cars that you can buy for less than that!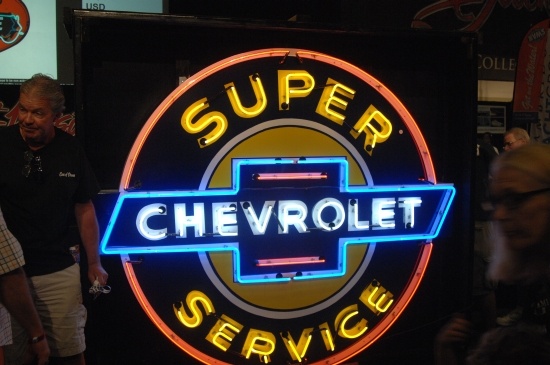 The Cars Begin to Roll
Today they got started about an hour late because of all of the memorabilia that they were auctioning. The early cars today were a bit more exciting than the first ones on the block yesterday.
The first notable vehicle was a Harley-Davidson golf cart that bid up to $7,000. As you can see, there's something for everyone here. You'll certainly get noticed next time you hit the links in this cart!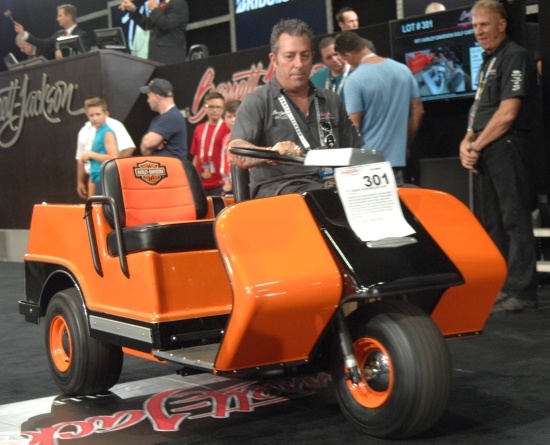 A more typical Harley-Davidson branded item went a little bit later. A custom chopper went for $15,000.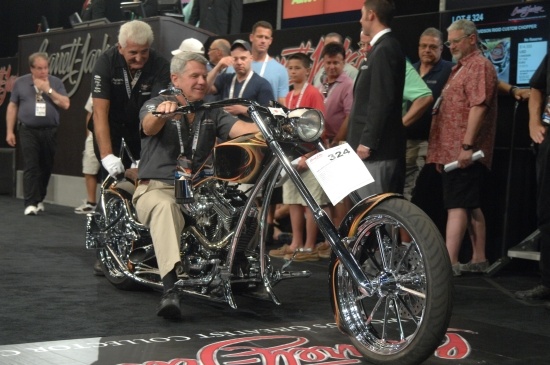 Shortly thereafter, as classic cars rolled out, a 1960 Austin-Healey Sprite Bugeye sold for $25,000. That's the kind of rare classic that we expect to see at a Barrett-Jackson auction.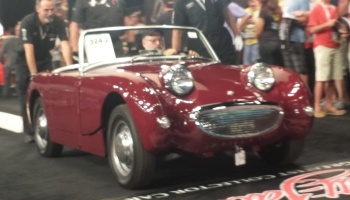 Then the very next car on the block, a 1959 Ford Thunderbird, bid up to $17,000 before it was declared "sold" by the slam of the auctioneer's gavel.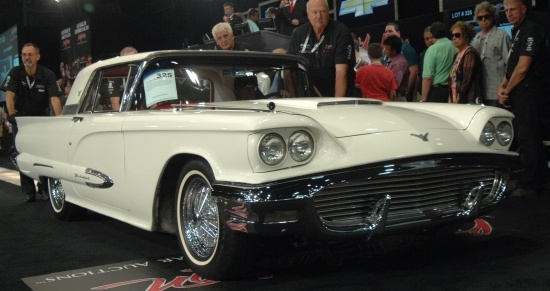 Crossing into Six Digits
A 1968 Chevrolet Camaro Z/28 was the car that got us into the six figure range for the first time today. This classic in great condition sold for exactly $100,000.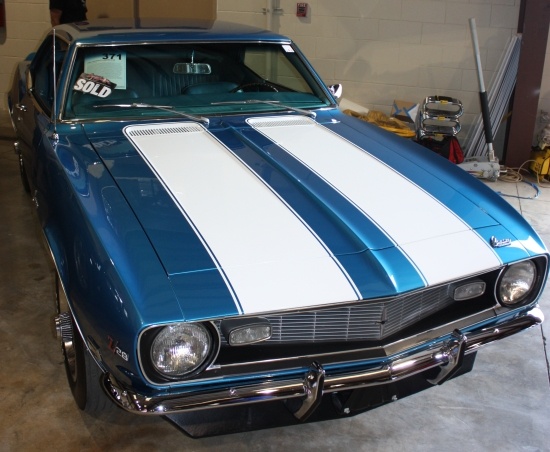 Herbie The Love Bug Sells
As the clock stuck 3 in the auction hall, one of the cars from Disney's Herbie The Love Bug series struck a chord with a VIP bidder. After several tense minutes of back and forth bidding, a bidder up in the VIP skybox won this classic beauty for $115,000.
Lamborghini Takes Bidding to the Stratosphere
As was bound to happen, we finally got a car to bid for over $300,000. It was lot number 405, a 1989 Lamborghini Countach Anniversary Edition. It's always incredible to experience the atmosphere when the bids get to this level. This car was one of the few with a reserve and it came into play. By the time the bidding ended, the highest bid was $335,000. Unfortunately, it didn't meet the reserve so there was no sale.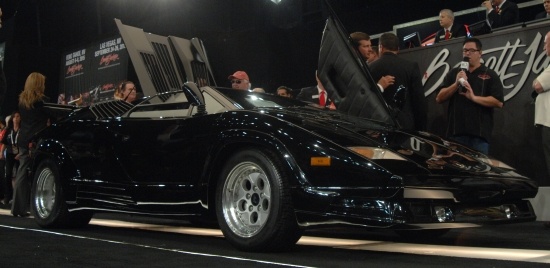 As we type, more and more cars are selling for over $100,000. Several cars have crossed this threshold including a 1987 Buick Grand National GNX, a 2012 Nissan GTR Twin Turbo and a couple of 1960's Corvettes. Stay tuned for more...
For all of the latest, follow us on social media and check back on the blog periodically.

About The Author: Lyle Romer is a consumer advocate, Founding Contributor and Vice President of CarBuyingTips.com. A 20 years veteran of the auto industry with a high level of expertise, Lyle has been researching all aspects of the automotive sales industry.
Lyle's expertise and research played a vital role during the creation of CarBuyingTips.com in 1999 after years of industry research. He carefully observed every aspect of his own car buying experience as the internet began to take a foothold in the process. He also designed the site to make sure that consumers had easy access to the best consumer advocate education.
Lyle has been an auto industry insider since 1999. He also has worked with other automotive websites to help improve their offerings based upon feedback from CarBuyingTips.com users. He covers important industry events and gathers off the record sources while attending industry conventions.
Connect with the author via: Email