2015 Barrett-Jackson Palm Beach Auction Preview

By Lyle Romer, Consumer Advocate
Published April 8, 2015
This year's Barrett-Jackson Palm Beach auction will be taking place April 17-19 at the South Florida Fairgrounds in West Palm Beach, FL. This will be their 13th annual auto auction in Palm Beach. Whether you are a visitor, bidder or seller, this event is always an exciting way to spend a weekend! We will be there covering all of the action and reporting via social media and on our blog.
If you aren't a seller or a bidder and just want to spend some fun time at the auction, tickets for all three days are $40 for adults, $30 discounted (seniors, military, students) and $20 for children. If you just want to go one day, Friday and Sunday are $15 for adults, $10 discounted and $7 for children. Saturday is $20 for adults, $16 discounted and $10 for children. All of the above prices are for advanced purchase on Barrett-Jackson.com.
What Kinds of Cars are Auctioned?
You will see many different cars auctioned off. You will see everything from antique classic cars to exotic cars to heavily modified production cars. There's something for everybody. Some of the most exciting moments happen when they have charity auctions. Last year, GM auctioned off the first production 2015 Corvette Z06 for charity and it sold for $1 Million to Rick Hendrick after an exciting bidding war
This year, GM is auctioning the first retail production 2016 Cadillac CT6 for charity. The CT6 is intended to be Cadillac's competitor to large, rear wheel drive German luxury sedans. I doubt that bidding will reach the astronomical bidding heights of last year's Corvette but it should still be fun to watch.
What to Expect at the Auction
After you park and head into the fairgrounds you will find a seemingly endless collection of tents covering hundreds of vehicles. You'll also find booths set up for display and demonstration of various car products and accessories. You can talk to the folks from companies like Meguiar's and find out how to properly detail your car. Of course, there is also plenty of tasty (and bad for you) food like the stuff you find at a county fair.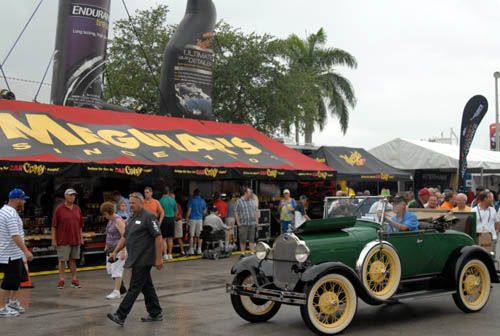 You can walk around the tents and get an up close look at the cars that will be auctioned and take pictures of them. Bidders use this opportunity to inspect what they will be bidding on. As a visitor, it will be like a car show. You never know, maybe something will catch your eye and you'll want to participate in the auction!
Test Drives and Rides
Ford and GM will be offering Ride n' Drives and Dodge will be offering "Thrill Rides." I don't have any details of the specific vehicles that will be involved but they set up some small track courses for these activities. Typically, the manufacturers let you test drive some of their cars and then they offer exhilarating rides where a professional driver takes you around in one of their performance cars. If you bring your family, the test drives are fun for the adults and the kids will have a blast on the rides (and so will you).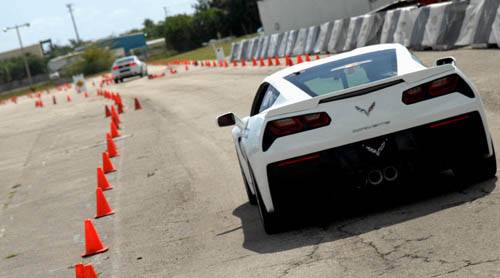 Staging Tent
If you explore around the grounds, you will find the staging tent with a few lanes underneath it. This tent is where the cars go right before they head to the auction block. Here you will see the final preparations as they make the cars look their best before they go under the lights. You also tend to see the broadcasters doing features on the cars in this tent.
Inside the Auction Hall
Inside the hall is where the action happens. At the front of the room is the actual auction block where the cars are brought for bidding and the auctioneer does his thing. Registered bidders get assigned seating near the front or in sky boxes (for the VIPs). There are bleachers and standing room available for the general public to watch from.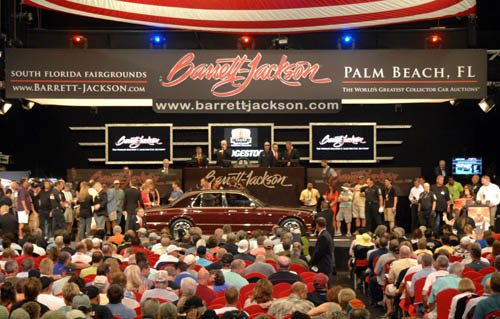 There is a constant stream of cars being put up for auction. They are brought up a ramp on one side of the stage and when they get to the block the bidding starts. As the bidding nears an end, the car starts to drive off and once the auctioneer declares it "sold" a "sold" tag is put on the windshield.
It's worth the price of admission just to spend some time and listen to the auctioneer. I don't know how anybody talks that fast but it's cool to hear and kids will really get a kick out of it.
Who Should Go
If you are a car enthusiast, I highly recommend that you take a trip for at least one of the days. Even if you aren't an enthusiast, the Barrett-Jackson auction is a great event for a family outing. You can take the whole family for the whole weekend for just a little more than a one day ticket for one person to go to Disney World!
We'll Provide Complete Coverage
If you can't make it to the auction, have no fear. We'll be there reporting on everything that is going on. Follow us on your favorite social media for up to date reports and check our blog for updates throughout the day.

About The Author: Lyle Romer is a consumer advocate, Founding Contributor and Vice President of CarBuyingTips.com. A 20 years veteran of the auto industry with a high level of expertise, Lyle has been researching all aspects of the automotive sales industry.
Lyle's expertise and research played a vital role during the creation of CarBuyingTips.com in 1999 after years of industry research. He carefully observed every aspect of his own car buying experience as the internet began to take a foothold in the process. He also designed the site to make sure that consumers had easy access to the best consumer advocate education.
Lyle has been an auto industry insider since 1999. He also has worked with other automotive websites to help improve their offerings based upon feedback from CarBuyingTips.com users. He covers important industry events and gathers off the record sources while attending industry conventions.
Connect with the author via: Email