2015 Barrett-Jackson Palm Beach Auction Friday Update

By Lyle Romer, Consumer Advocate
Published April 17, 2015
As the afternoon has progressed, the winning bid prices have started to rise. More bidders are in the building and more valuable cars have started to roll out on the block.
Charity Auctions
The big story this afternoon has been the beginning of the charity auctions. Barrett-Jackson is well known for supporting charities by waiving their buy and sell fees.
1969 Chevrolet Chevelle Custom
The first charity auction of the day took place just after 3:00 PM. A 1969 Chevrolet Chevelle Custom Tony Stewart Smoke edition was auctioned off. All proceeds went to the Darrell Gwynn foundation. It is a great charity that helps people with paralysis by donating wheelchairs.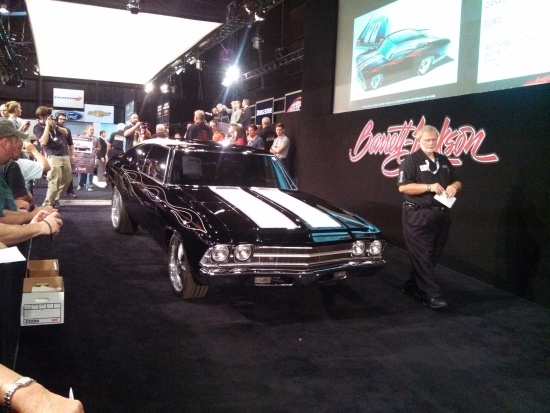 The bidding got going and quickly blew through $30,000. Within a few minutes it reached it the final price of $75,000. A win-win for everybody as the winning bidder got a great collectible car and many people in need will be helped.
First Production 2016 Cadillac CT6
At around 4:00 PM, a Cadillac CT6 was brought to the auction block. The winner of this auction will get the very first production Cadillac CT6. To make it even more special, the winning bidder gets to take delivery at the Cadillac design center.
The proceeds from this auction go to the Karmanos Cancer Institute. Of course, this is another great cause that will benefit from the generosity of others.
With such a once in a lifetime opportunity, the bidding was crazy like we expected it to be. Excitement built in the room as the current bid exceeded $100,000. Once it crossed that threshold, the audience started cheering and hollering to help motivate the bidders.
In short order the bids got close to $200,000 and then finally reached that huge number. With the bang of the gavel, the auctioneer declared the car "sold" and the room erupted. Those funds will really help many people with cancer!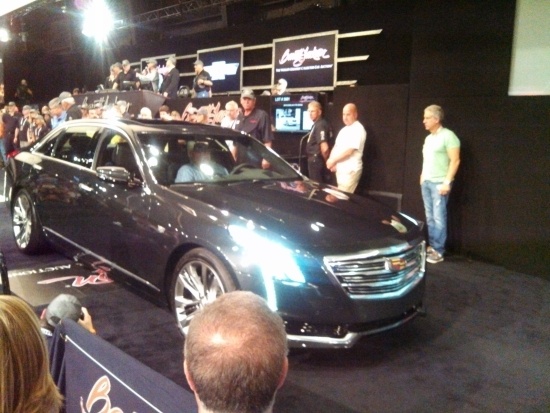 For all of the latest, follow us on social media and check back on the blog periodically.

About The Author: Lyle Romer is a consumer advocate, Founding Contributor and Vice President of CarBuyingTips.com. A 20 years veteran of the auto industry with a high level of expertise, Lyle has been researching all aspects of the automotive sales industry.
Lyle's expertise and research played a vital role during the creation of CarBuyingTips.com in 1999 after years of industry research. He carefully observed every aspect of his own car buying experience as the internet began to take a foothold in the process. He also designed the site to make sure that consumers had easy access to the best consumer advocate education.
Lyle has been an auto industry insider since 1999. He also has worked with other automotive websites to help improve their offerings based upon feedback from CarBuyingTips.com users. He covers important industry events and gathers off the record sources while attending industry conventions.
Connect with the author via: Email