2015 Barrett-Jackson Palm Beach Auction Friday Lunch Update

By Lyle Romer, Consumer Advocate
Published April 17, 2015
We are here covering all of the activity in West Palm Beach. The crowds are here and the auctioneer's gavel is banging. Without further delay, here is our Friday lunch update.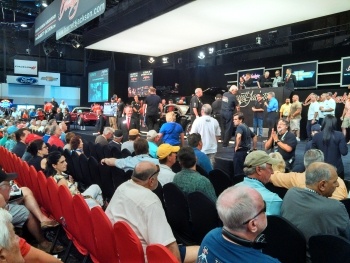 A Bit of a Slow Start
An important lesson was taught this morning. As the auction began at 11 AM, the bidding was light to say the least. Many of the first 20 or so cars were pretty ordinary. We saw cars like the 2003 Volvo S60 and very exciting 2004 Audi Quattro wagon.
Not only were the cars pretty ordinary but most of the chairs reserved for bidders were empty. I could have listed some of these on eBay and gotten more at the end of the auction.
If you are going to put your car up for bid at Barrett-Jackson, you probably don't want it to be one of the first of the day to hit the block. I'd say this is especially true for Friday, since it is the first day.
Beetles Galore
The good old Volkswagen Beetle has been very popular today. Over 10% of the first 30 cars were Beetles. I guess this is a good year to own one of those because they were going for pretty high prices.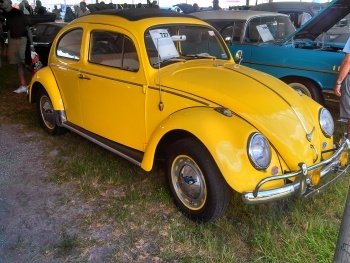 Action Picking Up
Once we got about a half hour into the auction things started to pick up. We started to see the kind of action that we are accustomed to. Bids started flying in left and right.
The value of the cars picked up as well. Instead of seeing the common stuff that we saw at the start of the day, we started seeing classics like a 1967 Oldsmobile Toronado as well as collector cars like the replica 1929 Ford Model A super deluxe.
Fiat, New or Classic?
I guess Fiat is saving design budget by not changing the design in over 40 years!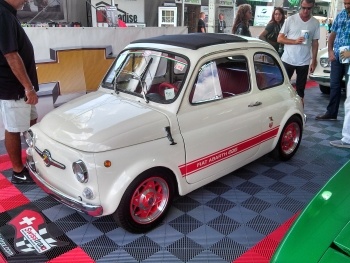 The excitement should continue to build. If you can't be here, follow us on social media and check back on the blog for updates.

About The Author: Lyle Romer is a consumer advocate, Founding Contributor and Vice President of CarBuyingTips.com. A 20 years veteran of the auto industry with a high level of expertise, Lyle has been researching all aspects of the automotive sales industry.
Lyle's expertise and research played a vital role during the creation of CarBuyingTips.com in 1999 after years of industry research. He carefully observed every aspect of his own car buying experience as the internet began to take a foothold in the process. He also designed the site to make sure that consumers had easy access to the best consumer advocate education.
Lyle has been an auto industry insider since 1999. He also has worked with other automotive websites to help improve their offerings based upon feedback from CarBuyingTips.com users. He covers important industry events and gathers off the record sources while attending industry conventions.
Connect with the author via: Email