11 Surprising Major Changes to 2015 Ford Mustang

By Jeff Ostroff, Consumer Advocate, Editor-In-Chief
Published December 29, 2013
Since Ford Motor company introduced to us the 2015 Ford Mustang GT earlier this month, the social sites have all lit up with everyone's opinion. Many are phony pundits who claim, "it's just a rehash of the current Mustang" or "it's a step backward" or "I don't see anything different." The other half love the new design. So what are the major differences between the new and improved 2015 model, and the current models?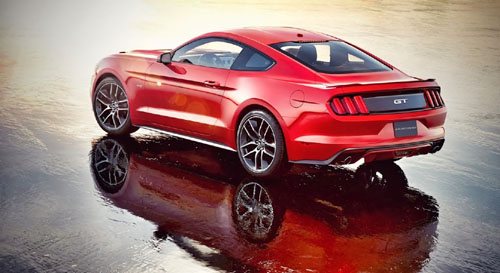 We here at CarBuyingTips.com are into facts and there's quite a bit of new features on this new Mustang. Many will surprise you and our list here should silence the armchair quarterbacks at the same time. Some people don't like change, but sometimes you have to cut the umbilical cord and start over so the past doesn't drag you down.
On December 5th, 2013, with much hoopla unlike any we have seen with other cars, Ford revealed to us via pictures and a few prototypes through a huge Good Morning America event, the much awaited 2015 Mustang. That day Ford CEO Alan Mulally did a lengthy interview with Phil LeBeau at CNBC. The rest of us would have to pay millions in Super Bowl ads to get the volume of press coverage that Ford got for free that day.
Major features of the redesigned 50th anniversary Ford Mustang:
1) 2015 Mustang is not based on any previous Mustang platform
That's right; you read correctly, I just settled that argument for you. This is not an evolution model, this is a revolution model. It's a total redesign and they started completely from scratch. This is the first major difference and it is a whopper. David Pericak is Ford's chief engineer overseeing development of the Mustang. I saw his lips move when he stated that all the parts are brand new, you might see a couple of the same bolts. This is a rare departure to see everything brand new like this.
2) Three brand new engines including new EcoBoost 2.3L 4-cylinder
In another surprising move, Ford introduced 3 brand new engines; they are not retools of previously used designs. This debutante ball includes a brand new 2.3-liter EcoBoost four-cylinder engine to round out the offering. This means we have 3 brand new engines to choose from. Pericak and Ford are both being tight lipped about the specs on these engines, so we will have to wait until deep into 2014 to get answers. But, he did say their goal was for the engines to beat the Boss 302 on the track.
He said for the 5.0-liter V8 engine that will go into the GT model they improved on the Boss 302 engine and built the most ultimate power and fuel efficient engine that Ford has ever made. He promises the new V8 will exceed the estimated 420 HP of the 302. How much horsepower will it exceed by? They are not saying, but we're going to hold them to the tease because those are some lofty claims he has made.
3) Independent rear suspension
I love IRS! No really I do. You thought I was talking about the tax man? I am of course speaking of Independent Rear Suspension (IRS). This is a major redesign here, one which should silence a handful of critics. The engineers finally came to their senses and completely redesigned a whole new car with the rear wheel drive operating on an independent rear suspension.
This new rear suspension replaces the current stale design with its tired solid rear axle which is going the way of the willows folks. This will be the first Mustang in history with Independent rear suspension. This gives our pony better performance on the test track and a smoother ride. It just snowballs folks, this means they had to make another change:
4) Front double ball joint Independent Suspension and McPherson Struts
Now that's a mouthful. Don't think you can just get away with changing the rear and not expect to modify the front end as well. This is why I laugh when these hot air armchair quarterbacks blast their way onto the forums, trying to dismiss this new Mustang as just a rehash of that some older one. It's not even close to the existing models. They don't have a clue that this car is truly re-engineered from the ground up. Ford claims all this will give this car the best stopping distance they have designed yet.
5) All new exterior design shark nose front inspired by 1964 Mustang
As explained by Joel Piaskowski, Ford's Exterior Design Director and Kemal Curic, Manager of Exterior Design, they re-engineered and re-invented the car starting with the exterior, with a bold "fist punching through the air" theme. They are incorporating the shark nose bite front end, inspired by the 1964-1965 Mustang. You can see there's 50 years of Mustang bloodline shooting through the veins of this new futuristic pony.
6) New triple tribar LED "shark gill" head lights on the GT
If you look next to the headlight on the front end of the GT model, you'll see both left and right sides have this cool looking set of 3 new slanted white LED tribar lights that I call shark gills, adding to the shark nose design of the front end. These white LED lights seem like a carryover from the iconic distinguishing 3 tribar lights used on the rear.
7) Bolder and more distinct tribar LED taillights on the rear
Some older Mustang models had that very distinctive 3 vertical stripe tribar taillights on the left and right rear that unmistakably screams Mustang. You know when you get behind one of these what car it is just by seeing the 3 taillights. On the 2015 model, they redesigned for a more 3D look and wider muscle car look on the back with more distinct spaced out LED lights on each side.
I personally love that they finally got bold and redesigned the taillights with 3 unique totally separate bars inspired by the 1969 Mustang, one of my favorite years for this pony. I was not a fan of many of the phony looking later year Mustang taillights with their ho-hum iterations of groupings of 3 tribars molded as a single one piece unit. I was glad to see Ford make this long overdue correction and separate the tribars once again.
8) Driving lamps removed from the front grill
This one was a surprise to us as this was another staple of the Mustang design, the front grill with the two driving lights in it. Now they are gone, but the new trapezoid shaped grill does look bigger and cleaner. The lights were moved to the bottom of the front end and spaced far apart, making the car look wider and cleaner in design. The rectangular shaped lights at the bottom of the grill next to them still need time to grow on me.
9) Cabin moved towards the rear, longer hood
The cabin was redesigned to be further back and the roof line was lowered. This gives us a longer hood, now we have a contender folks. They also designed a fastback look to the rear. The cabin supposedly has a bit more room for shoulders and legs also.
10) Rear wheels spaced farther apart for bold new look
Rear track was increased a couple of inches to allow a new muscular looking haunch to hang over the rear tires, like a body builder's strong shoulders with chiseled rhomboid muscles. This wider rear is what makes the black rear fascia look wider too. This reminds me of the rear of the 2000 Ferrari 360 which made good use of the large rectangular black space to accent the rear lights, giving more of a muscle race car look.
11) Total interior redesign: metal, leather, round gauges, jet cockpit theme
Ford went after a bold airplane cockpit look with symmetry and premium materials. The first thing they did was go retro with the large round symmetrical gauges, but kept the double brow dash look. This invokes memories of Steve McQueen in Bullitt or Paul Walker in The Fast and the Furious.
But Ford went all out on this one with some sweeping changes like the aluminum metal dash fascia and the all metal toggle switches for ride control. These switches should appease those who complained about certain controls being hard to find in the MyFord system menus, which could use some software and user experience re-engineering of the magnitude that went into the Mustang redesign.
The current 2014 Mustangs have a ho-hum sort of flat looking one dimensional control center console design with the same old run of the mill square AC vents. The 2015 seems more modernized with the MyFord touchscreen, yet partially retro and muscle car with the round gauges, the round AC vents and military airplane styled metal Mustang badge on the dash. It features the galloping pony logo and is stamped with "Mustang -- Since 1964."
You won't feel like you're driving a car, you'll feel like Tom Cruise's Maverick in Top Gun piloting a fighter jet.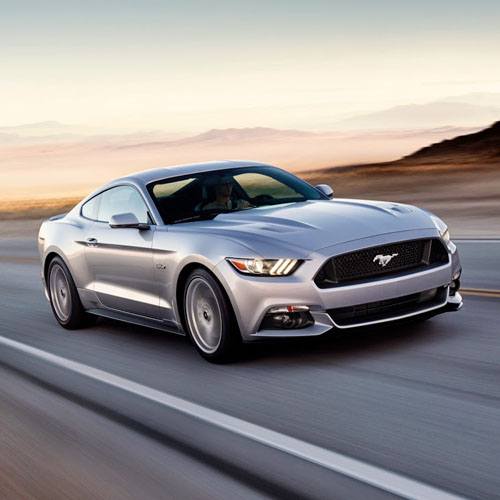 Keep in mind no one has been able to drive this pony yet, we don't know the price, we don't know the engine specs, the 0-60 MPH spec nor the MPG, but we have seen this new re-engineered from the ground up design. You'll never look at Mustang the same way going forward. I'm already salivating, but only for the GT!
So why did Ford introduce it so soon and tease us with this massive media blitz and then quickly tighten their lips about important things like cost and engine specs? My guess is they want to see what the world says about it in all the forums and social networks and it gives them time to make engineering tweaks to appease the masses in the 11 months before it will hit showroom floors.
When you think about it, that would be a brilliant plan compared to simply launching the car into the market and then finding out what people hate about it. If I am correct this means maybe their marketing folks are geniuses along with the engineers. Only time will tell.
Ford has a lot riding on this one; it's risky for a whole new redesign with all new parts that have not been tested in the marketplace yet. As long as there are no major failures (I know they use 6-Sigma quality and testing techniques) and Mustang will continue to be built in the USA at Flat Rock Assembly Plant, this should be the grand slam Ford is looking for it to be.

About The Author: Jeff Ostroff
A lifelong consumer advocate with over 20 years of unparalleled expertise, Jeff is the Founder, CEO and Editor-In-Chief of CarBuyingTips.com. As chief consumer advocate, he oversees a team of experts who cover all aspects of buying and selling new and used cars including leasing and financing.
For decades, Jeff has been the recognized authority on vehicle purchasing, sought out often by the media for his decades of experience and commentary, for live call-in business radio talk shows and is cited often by the press for his expertise in savvy car shopping methods and preventing consumer scams and online fraud. Jeff has been quoted in: CNN, MSNBC, Forbes, New York Times, Consumer Reports, Wall Street Journal and many more.
Jeff also has extensive experience and expertise in new car brokering and selling used cars for clients on eBay and Craigslist. Connect with Jeff via Email or on Twitter.