Forget To Pay Off Your Trade In Scam
How the Scam Works
This scam is often pulled on people who are trading in their old car to buy a new car. Bear in mind at CarBuyingTips.com we have never liked the idea of trading in a car you owe money on to a dealer. We think no one should do ever do this. But if you do, here are the typical steps that should normally take place when you trade in a car that you owe money on:
You trade in your old car with an outstanding loan balance to the dealer
The dealer is supposed to obtain a loan payoff figure and payoff the loan in 10 days
The dealer should then add that payoff amount to your new car purchase
Keep in mind you will now be paying off new car and the remaining balance on the old car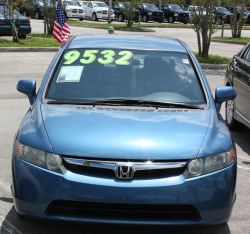 But something horrible happens. Two months after you buy your car you are blindsided to hear the car dealer did not pay off your old car loan as promised. Now the bank is sending you angry letters that your car payment is late. With this scam dealers are effectively paying you less for your trade than they promised. This means they often are stealing your trade in altogether.
When the lender calls you for your payment, it is you, my friend who are responsible for the loan payment, not the dealer. Remember, the car loan is still in your name, until the dealer pays it off. This is the treacherous vortex of where the trouble lies. It could also have been caught earlier if you had just called your old lender 2 weeks after you trade in your car to confirm the loan was paid off by the dealer.
As far as the bank is concerned, they still have a car loan with you, not with any car dealer. The note is in your name until it is paid off. Of course you foolishly think the dealer has the car and they paid off the loan. But you never confirmed it with the lender did you? Thus in the lender's eyes, you have the loan and you have stopped paying them and they want their money now. Because of all this your credit gets dinged with these late car payments. If you try to sue the dealer, the judge will ask to see your contract with the dealer obligating them to pay off your old car loan. Of course there is none, these guys cover their tracks well.
How to Avoid the "Forget To Pay Off Your Trade In" Scam
We here at CarBuyingTips.com for years have always recommended against buying a new car when you still owe money on your current car. This is a constant source of devastation and teeth gnashing for too many consumers. Your best bet is to avoid this situation altogether. Avoid this scenario and you avoid the scam, its simple physics. Here is what we recommend that you do when you owe money on a car that you wish to get rid of:
Pay the car off yourself first
Receive your title a week later from the lender who is holding it during the loan term
Sell your car privately. You can also trade it in, but we don't recommend it
If you can't pay it off first, then tell the buyer they will get the title in about a week
When buying new cars, if you ignore our advice and you trade in a used car which you still owe money on, insist that the dealer put in writing that they will pay off your car loan in 10 days or no deal. Then the dealer is liable because you took steps to protect your rights up front. Most lender's early loan payoff figures require full payment within 10 days of the quote otherwise interest starts to accrue and the payoff figures have to be recalculated.
You never want to end up without proof that the dealer agreed to pay off your trade-in. If the dealer refuses to put these promises in writing, it means they will pull this scam on you. Once they refuse to put it in writing, you should then leave immediately, taking your business to a more reputable dealer.