Dos and Don'ts at the Car Dealership
Before heading out to a car dealership there are some important things you should know. Once you get there, you'll be excited and your adrenaline will be pumping as you are surrounded by rows of the hottest new cars. You should prepare yourself in advance so that you'll be able to look past all the distractions and focus on what is really important.
What to Expect in this Section:
1. Never Buy the First Time You go to the Dealership
It is extremely important to follow this advice if you are negotiating in person. Once you sign the contract for your new car, it's nearly impossible to get out of the deal. Find your lowest deal before you sign, not after. Don't take the word of a salesman that other places can't match their price. Every time I've heard that, I have proven them wrong. Make sure they see "The Folder" with research and quotes which ww will talk about in a second. Show them you did your homework and you know how to get the best deal possible. Once they know they can't trick you, business will be conducted on your terms. Make sure The Folder has invoice pricing of all the options on your car, printed out from our car pricing section.
Having all of your ducks in a row will make your hunt for a good deal much easier. The salesman wants you to be distracted and unprepared so that you'll be primed for their tricks. Start by gathering all of the items I recommend to bring with you.
2. "The Folder" - Information You Need Before Entering the Dealership
Your credit report with credit score
New car price quotes from the TrueCar, RydeShopper, Edmunds and Cars.com
Accurate new car invoice pricing data, rebates and incentives from FightingChance.com
Car loan pre-approval at your credit union or apply online at LightStream
Laptop, tablet or smartphone with our free spreadsheets
Insurance quotes for the vehicles you are considering
If trading in a car - trade-in and market value
Extended warranty quotes for the cars you are considering. A great deal can turn bad quickly if you buy overpriced coverage.
3. Shopping Around For Cars and Test Driving
As you enter the dealership, remember your goal. Get pricing and option information from the MSRP sticker, find out what options your car is supplied with. Write down all the option packages, you'll need this information later to form your offer.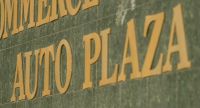 Their goal is to keep you from leaving without buying. They don't want you to go elsewhere to comparison shop. While shopping around, inform the salesperson you are definitely not buying today, no matter what. The better salesman know not to pressure you, if you want the car, you'll be back. Just say "no", unless you are ready. Here are some examples of things they will say to keep you from leaving:
"What if I told you that you can drive off today with no money down?"
"Let me get this straight, you don't want to save over $1,500?"
"What will it take to put you in this car today?"
Tell Them "Even if it was free, I wouldn't buy today, I'm weighing all my options."
To emphasize from the discussion about "The Folder" above, you should definitely have your Guaranteed Savings Certificate from TrueCar with you. You select the make, model and option package and you will see the TrueCar Curve. The Curve shows you what others in your area have actually paid for your model and trim level as well as the MSRP and invoice price.
There will be an option to get the Guaranteed Savings Certificate. It will give you a baseline price for negotiating and the best part is that you don't need to talk to anybody to get it. If you forgot to bring it with you, you can just bring up this page on your smart phone, click this link and get your Certificate right there on the lot.
Save with TrueCar Pricing

See How Much You Can Save
Get Real Pricing on Actual Cars
ADVERTISEMENT
4. Never Buy a Car Without an MSRP Window Sticker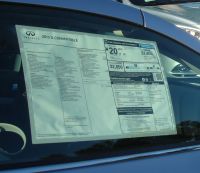 Every new car is required by law to have the factory MSRP sticker on the window. Only the buyer is allowed to remove it. If it's missing, report it to the Attorney General's office. One man in Ft. Lauderdale bought a car with no MSRP sticker so he couldn't verify options on the car, taking the dealer's word for it. He paid $1,500 for an option that wasn't on the car. When he confronted the dealer, they told him verbal contracts are unenforceable and refused to deal with him. Moral of the story: Never buy a car without an MSRP sticker (also known as the Monroney sticker).
Advertising Policy
Recommended Car Price Quote Sites
TrueCar is an online marketplace for automobile shopping that provides transparency into prices that others paid for their vehicles. Consumers engage with TrueCar Certified Dealers. You'll be able to research the vehicle you are interested in and get accurate pricing on in-stock dealer inventory. See your potential savings before heading to the dealership. Start your stress-free search
RydeShopper searches pricing from their network of dealers to find the best price. Use their simple form to select make and model and start saving. Get quotes from the maximum number of dealers to give you the upper hand. Get a Quote
Edmunds.com gives you no-hassle and no-obligation FREE price quotes. You can view actual dealer inventory and prices in your area. Find the right car for you at lowest prices available. You can also use the Edmunds True Market Value™ pricing to get the best deal. Remember, when dealers compete, you win. They also list current factory to consumer rebates, as well as secret factory to dealer incentives. If you are aware of a secret factory to dealer incentive on your car, you can negotiate a lower price. Begin the FREE Quote Process
Cars.com gives you free, no-obligation quotes from up to 3 dealers. Select your make, model, color and options. Getting quotes from multiple dealers pressures them to give discounts. Free Quote
The CarBuyingTips.com Car Buying Service lets you get a guaranteed price quote without leaving your house. This exclusive program leverages volume buying power of large companies, employers and membership groups to get you a low price. Let's Get Started
Autobytel has 20,000 dealers, they give you free no hassle low price quotes, list automobile prices and dealer cost. Get a Quote From Autobytel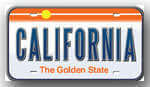 BuySide Auto Concierge Service for California Residents will get you a great price and handle everything for you. They will deliver the car to your home. Only available in California. Save by Using BuySide Auto
5. Take the Test Drive, Remain Silent
During the test drive they want as much information out of you as possible. Anything you say will be used against you. They want to know what monthly payment can you afford and they want your trade-in. Tell them nothing. They are conditioning you as a payment buyer. They determine what payment you are happy with, shielding you from the selling price. Tell them you don't deal that way, you negotiate based on price, not monthly payments. Test drive on a hot sunny day to test the AC. Is it cold? Does cool air reach back seat? Always inspect the car in daylight, not in the dark, for any nicks or dents. Inspect the paint and make sure it's in good condition. Take a picture of the pricing and package/option information from the manufacturer's sticker so you can look up dealer cost including the options. Ignore the dealer's sticker. Get the sales person's card, thank them and tell them you'll be back. Don't let them try to sell you at this time, as you are unprepared and they know it. If they try to create a sense of urgency for you to buy today, ignore it. The "urgency" is for them to sell and not let you walk out of there.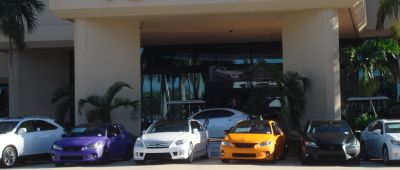 Salespeople need your Euphoria! During the test drive don't act excited. They'll say "Isn't this great"? feeding the euphoria and they have you hooked. All you want to do is get the pricing info. If they turn on the radio, turn it back off. You want no distractions, while listening for strange vibrations or rattles. Music from the radio may get you in a partying mood, which you don't want. Act flighty and indecisive, unimpressed, go back and forth between liking sport and sedan. They can't figure you out, and they don't have you in a spell. Whoever is asking the questions controls the conversation, so you ask all the questions. Everything they say is false until you see it in writing.
Jeff's Car Buying Physics Rule #5:
If they don't put it in writing, it means they won't do it.
6. Ask About Fees
Ask if the dealer charges advertising fees, dealer prep or other fees. Make sure it agrees with what you found on the car pricing sites. Knowing the fees is important when you end up comparing similar deals. Fees can add up to over $1,000, throwing off all your budget calculations. You must know all the fees your dealer plans to charge so you can factor them into your budget and formulate your offer accurately. Learn about all the types of fees you will encounter in our fee glossary.
7. Sales Tactics You Will Likely Encounter
"Please forgive me, I'm new at this. I've only been selling cars a few weeks." I've heard this every single time. This makes you lower your guard. The salesman knows you'll be at ease, thinking you can out smart him. When you start to negotiate, suddenly he becomes Donald Trump. If your salesman turns out to be a woman, don't underestimate her. Some men wrongly think they can outsmart any woman. As they bask in their ego, she's out maneuvering them.
"Sure, Jeff, I'll give you floor mats. The parts department is closed, so stop by Monday and I'll have them." We showed up on Monday, and guess what? Mr. Liar doesn't work Mondays! They refused to give us the mats and Mr. Liar dodged our subsequent calls. If they promise you anything, no matter how sincerely, make them put it in writing. "We'll be back to buy the car when you have the floor mats."
"Gee, I don't know what that fee is for, we've always charged it." If they claim they don't know what a specific fee is for, they are lying and you should leave immediately. They just don't have the guts to look you in the eye and tell you it's a bogus fee. If the sales manager gives some obscure story that it's to help offset the cost of giving you discounts, do yourself a favor and leave to offset your cost of lining their wallet.
8. Don't give them your Drivers License or Social Security number!
"Dave has your license, he went out to lunch. In the meantime, what can we do to make you sign?"
Don't be held hostage! Many new car dealers photocopy your license before a test drive. Tell them there is no reason to. They'll say insurance requires it. Some dealers copy your license "in case you rob the salesman." Other dealers copy your license to run unauthorized credit checks during your test drive. Make copies of your license beforehand and when they ask for your license, hand them the copy and get it back when you leave. Write on the copy the dealer may not run a credit check on you. Many dealers are honest and will photocopy your license on a copier at the front desk and give it right back. But some, while you're out on the test drive, run a credit check on you. Don't give personal info until you have signed the buyer's order and are doing dealer financing. How can you tell if they ran a credit check on you? Get your report online from one of the big three credit bureaus. You can run your own credit report as often as you like and it will not lower your credit score.
9. Rude Things You Should Never Do
Don't lie about the condition of your trade in. You wouldn't like it if it happened to you.
Don't waste the salesperson's day car shopping if you have a recent bankruptcy. You won't get auto loan approval.
Don't put down a deposit and try to take it back for no reason.
Don't lie about your income or debt load. They run your credit report to verify it.
Don't make an unreasonable offer without actually knowing the dealer cost.
Don't spout off how the salesperson is making $3,000 on the deal. If you're getting a good deal the commission is pretty low.
10. Your Deposits and Down Payment
Don't pay cash for a deposit on a car! If the transaction goes bad, you'll never get your money back, but you can dispute a credit card charge. You may need a new, clean credit card to handle deposits, and purchases, don't pay cash. What if you can't get credit at all and keep getting rejected? Don't keep applying to credit cards, get rejected, and your credit history damaged even further, find out who will approve you before you apply. They find at least 2 credit cards guaranteed to issue an unsecured credit card to you. If your credit is so bad and If you're in too deep, maybe now is not the time to buy a car.
Now it's time to find out what the dealer really paid for your car in the pressure free comfort of your home.
Chapter 4: Determine the dealer's cost, make your buyer's offer >