Save Money Buying a New Car in 5 Quick Steps
I have received feedback from people telling me that they don't have time to read the whole site so I have created this slimmed down version of the information. But before you get started, a couple of quick reminders. I recommend that you read the entire site.
If you are pressed for time then use this five step new car buying guide, but you won't have a complete understanding of the tricks of the trade. You should still be able to save a good amount of money on your deal using this quick, 5 step guide. You will understand the role of powerful tools such as TrueCar and RydeShopper.
New Car Buying in 5 Quick Steps
You need to understand that the dealer is playing with a stacked deck. You are basically involved in a shell game. By following the steps on this page, you will be able to take away the dealers "house advantage." Let's get started:
1 - Determining a Fair Price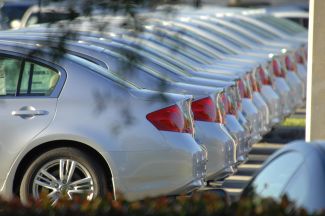 Before you do anything else, you need to determine what a realistic, fair price is to pay for the vehicle that you want. We have created a free spreadsheet for you to use to figure this out. Just click here to download the spreadsheet. In order to figure out the fair price, you will need the invoice pricing for the vehicle. FightingChance sells a package (for $59.95) that includes the invoice pricing data as well as other valuable information. The money you spend can end up saving you $1,000's. Edmunds has invoice pricing available for free but from experience, it does not seem to be as accurate.
2 - Using Competition to Your Advantage
After figuring out the fair price, the next thing you should do is get free price quotes from TrueCar, RydeShopper and Edmunds. The more dealers that you work with, the higher the likelihood that one will sell it to you at the lowest possible price. That is why we recommend getting quotes from several of the sites listed below.
Save with TrueCar Pricing

See How Much You Can Save
Get Real Pricing on Actual Cars
ADVERTISEMENT
In some case you will be asked to give contact information (email, phone and address). This information is only used to provide you with a quote and is not sold to any email or mailing lists. If you don't provide real contact information, you will not get a quote. Once they contact you, tell them up front that you are working with multiple dealers. Give them the details on the car you are looking for and ask them to give you a bottom line price including all dealer fees. At this point, tell the dealer that you will not be trading in a car. If the subject of financing comes up, tell them you will deal with this later and are only interested in the price, not what your monthly payments will be.
Advertising Policy
Recommended Car Price Quote Sites
TrueCar is an online marketplace for automobile shopping that provides transparency into prices that others paid for their vehicles. Consumers engage with TrueCar Certified Dealers. You'll be able to research the vehicle you are interested in and get accurate pricing on in-stock dealer inventory. See your potential savings before heading to the dealership. Start your stress-free search
RydeShopper searches pricing from their network of dealers to find the best price. Use their simple form to select make and model and start saving. Get quotes from the maximum number of dealers to give you the upper hand. Get a Quote
Edmunds.com gives you no-hassle and no-obligation FREE price quotes. You can view actual dealer inventory and prices in your area. Find the right car for you at lowest prices available. You can also use the Edmunds True Market Value™ pricing to get the best deal. Remember, when dealers compete, you win. They also list current factory to consumer rebates, as well as secret factory to dealer incentives. If you are aware of a secret factory to dealer incentive on your car, you can negotiate a lower price. Begin the FREE Quote Process
Cars.com gives you free, no-obligation quotes from up to 3 dealers. Select your make, model, color and options. Getting quotes from multiple dealers pressures them to give discounts. Free Quote
The CarBuyingTips.com Car Buying Service lets you get a guaranteed price quote without leaving your house. This exclusive program leverages volume buying power of large companies, employers and membership groups to get you a low price. Let's Get Started
Autobytel has 20,000 dealers, they give you free no hassle low price quotes, list automobile prices and dealer cost. Get a Quote From Autobytel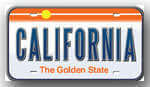 BuySide Auto Concierge Service for California Residents will get you a great price and handle everything for you. They will deliver the car to your home. Only available in California. Save by Using BuySide Auto
3 - Getting Your Financing in Order
The dealership is not the only place where you can get new car financing. Before you can get the best rate on financing, you have to know what your credit score is. You can get a representation of your FICO credit score from TransUnion or Experian.com (you get your 3 credit reports and 3 scores by Experian instantly online, with enrollment in Experian.com).
Now that you know your score, you should apply to online lenders like LightStream.
Tip of the Century
If you are going to be paying cash for the car and do not need financing, find out about what rebates are available if you finance through the dealer. As long as there are no early repayment penalties on the loan, finance the car to get the rebate and then pay the off the car loan a few days later. Even if there are early payment penalties, the penalty could be a lot lower than the rebate.
4 - Figure Out Your trade-in Value
Use Kelly Blue Book to estimate the trade-in and private resale value of your car. It will be up to you to decide which way to go. Trading in will be simpler and easier but you will get a higher amount for your used car by selling it privately. You will also need to consider the savings on sales tax that you will receive by trading in your used car. You can play with the numbers on the offer spreadsheet to help you decide what to do.
5 - Negotiating Your New Car Purchase
The key to getting an accurate picture of the dealer's offer is to request that they give you the out-the-door cash price excluding rebates, incentives or trade-in's. You should already have your baseline price from TrueCar and competing quotes from services like RydeShopper. The price should include all dealer added fees. At the beginning, don't let them use your trade-in or financing as part of the negotiation.
Tip: Never Negotiate Based on Monthly Payment
One of the easiest ways for the dealer to rip you off is to negotiate your new car price based upon the monthly payment. Do not fall into this trap! By extending the length of the loan they can get the monthly payment to be almost anything. They can hide the fact that they are over charging for the car, stuffing extras into the deal or low balling your trade-in. There are many "games" the dealer can play with loan term and down payment amounts.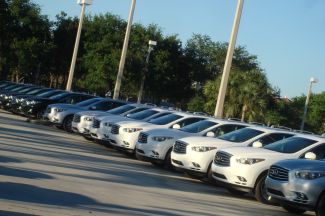 Tell the dealers you'll be paying cash and selling your old car on your own. You can tell that it is a fair price, by using our free "offer"spreadsheet as well as forcing the dealers to compete against each other. Contact the dealer which gave you the lowest price and say you would like to purchase the vehicle.
Only negotiate based on the loan APR and the price of the car. Sometimes they'll say "if you finance with us you can get a $1,500 rebate." You have to be very careful here. Sometimes it is better to take the lower rate instead of the higher rate with the rebate. Use the spreadsheet to figure out which is better. If the dealer offers you better financing, by all means, take it.
Now is the time to negotiate your trade-in (unless you decided to sell it on your own). If the dealer doesn't offer you something close to the Kelly Blue Book price threaten to walk. Once you have agreed upon a fair trade-in value or decide to sell it yourself, you are ready to negotiate your financing.
Tip: Beware of Dealer Add-ons and Fees
First of all, check over all the paperwork and make sure the price quoted and trade-in value are correct. Add the numbers yourself, don't trust the dealer. Make sure that you don't get tricked into taking extras like Environmental Prep, Rustproofing or VIN Etching. More about these scams can be found in our top dealer scams list.
Well, that's pretty much it. If you followed these steps, you should have come out with a very good deal. For a more detailed explanation of these negotiating tactics and the basis behind them you should start here and read our entire new car buying article.