Used Car Loans
A used car loan is a little bit different than financing a new car. Understanding the differences will help you get the best possible deal when you finance a used car.
1. Key Differences of Used Car Loans
Most lenders will not lend you money for a used car that is more than 4 or 5 years old
Lenders charge at least 2% higher APR than they do for new car loans
Online lenders have a lower premium on used car loans
Private party and dealer transactions are handled differently
In some cases you may be forced into dealer financing
2. Never Pay Cash for a Deposit on a Car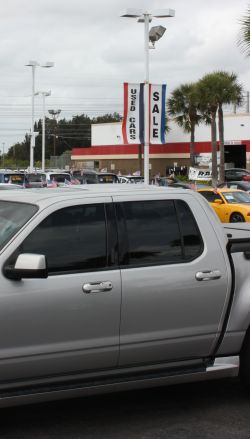 You may be wondering why I put this advice so high on the page. I think it's very important to alert you about this since most people don't ever think about it. If the deal goes south, you'll never get your cash back, but you can always dispute a credit card transaction.
Most dealers are reasonable, but you don't want to risk putting yourself in this position. Why take the risk when it is so easy to avoid?
There are two different types of used transactions. The first is when buying from a dealer. The other is when you purchase from a private party. Depending on which route you take, there are different financing options available. Some lenders will not finance a private party transaction.
3. If You Plan to Purchase From a Dealer
It is easier to get a used car loan if you are buying from a dealer. It doesn't matter if it is a dedicated used car dealership or a dealer that has a used car department. Banks see less risk in this type of lending. Therefore, you will have more options when financing a used car. The online lenders we recommend below will generally beat the dealer's rates.
4. If You Plan to Purchase From a Private Party
Lenders see more risk when you buy from private party. Buying from a private party will usually get you a better price, but it will be much more difficult to get a used car loan. In addition you will be paying a higher interest rate. LightStream (a division of SunTrust bank) is one of the few online lenders that provides used car loans when buying from a private party.
Which site should you use? First make sure your credit score is at least 680, then as a prime borrower, you can choose by who has the lowest APR. People with bad credit pay higher interest rates. Get your credit report instantly online, it's a must for The Folder. DO NOT apply for a car loan until you get your credit report with credit score. Get it online at one of the big three bureaus. If your credit score is less than 680 Auto Credit Express may be your best option.
Credit Bureaus
Experian.com - Owned by the Experian credit bureau.

You get your 3 credit reports
3 scores by Experian instantly online
With enrollment in Experian.com

TransUnion - One of the big three credit bureaus.
Advertising Policy
Best Used Loan Sites

LightStream is the online lending division of SunTrust Banks Inc. They offer low interest, unsecured loans for highly qualified customers. LightStream offers "The AnythingLoan" which can be used to finance new or used, private party or dealer, they have you covered!
LightStream delivers a revolutionary loan process
Low interest rate unsecured loans for highly qualified customers
- Minimum FICO credit score of 680 required to qualify
- A substantial, excellent credit history is a must
LightStream offers their unique "Customer Experience Guarantee"
Receive funds as soon as the same day of your application on banking business days
LightStream loans can be used for new or used cars, private party or dealer
LightStream does not charge any fees of any kind!
Click Here to Visit LightStream
---

Auto Credit Express is designed for people with poor credit. Auto Credit Express requires you to have a monthly income of $1,500.00 or more and be able to obtain auto insurance.
Auto financing for people with lesser credit: If your Credit Score is below 650 and you're rejected, don't submit apps that keep getting you rejected. Submit one free application to a bad credit auto loan site like Auto Credit Express.
They can find financing from high risk underwriters. Even if you have a discharged bankruptcy, tax liens or bad credit.
If your credit score is 550 or above, your chances are good, also you should full time employment.
If you have good credit but get rejected elsewhere for no car loan history.
5. Additional Tips
Make sure you know the car's history
Before you even think about financing a used car, you need to run an AutoCheck Report and have a certified mechanic inspect the car. If you don't do both of these, and you end up getting screwed, don't email me. You have been warned. Learn more in our Vehicle History Report article.
Get An Extended Warranty for your used Car
Get an extended warranty for your used car. If you buy a 3 or 4 year old used car, that's when the manufacturer's warranty expires and all hell breaks loose. Unless you have an extended warranty, you are exposed to potentially large losses. The best car warranty site we have researched so far is CARCHEX. Click on the following link to read our complete guide on buying an Extended Warranty.