Questions to Ask a Seller When Buying a Used Car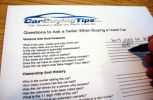 We have put together this list of questions that you should ask the seller. I highly recommend that you print it out and fill in as many blanks as possible. The answers will help you in two ways. They will provide guidance to let you compare various cars that you have looked at. Secondly, once you have decided on a particular car, use the answers from the sheet to negotiate the best price.
The questions are in a pdf file. Some browsers do not display the file properly so if you are viewing this page on a tablet or smart phone you should click here to download the pdf file.