Save Money and Avoid Scams when Buying a Car
For 15 years we are the recognized authority in car buying education, sought by CNN, WSJ, NY Times and MSNBC. Our Chief editor Jeff Ostroff has helped the F.B.I. and Secret Service uncover internet fraud. Our advice has saved our visitors millions.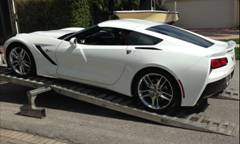 Few people want you to know the truth about buying cars.
We will educate you, show you how to find true dealer cost and use our tools to haggle your best deal and avoid scams.
We'll also review your numbers for free to confirm you're getting a good deal. Who else does that for you?
After you read this guide you will become an informed, confident car buyer. You won't have any fear about dealing with the salesman since you will be relaxed and in control of the buying process.
Complete guide to buying a new car. We will help you avoid the traditional negotiating hassles. You will learn how to get the best deal and avoid all of the common dealer tricks and scams.
Learn all of the important steps when buying a used car. We will cover all topics including choosing a car, getting quotes, negotiating with the seller and protecting yourself from buying a lemon.
Take Advantage of End of Year Deals
With the end of the year rapidly approaching, now is the time to get great deals on clearance sales. The dealers want to get rid of the rest of their 2013 models and the manufacturers offer a lot of secret factory to dealer incentives to help them. We highly recommend that you take advantage of this situation especially since most cars don't change much from one model year to the next.
When there are major changes to the model like the 2014 Corvette, then you need to think this through a little more. When major changes are made it increases the rate of depreciation for the old design. If the dealer is willing to go low enough then it may be worth it to get a certain model for much less than normal. To make sure the dealer doesn't use tricks to offset the savings read our site and educate yourself on the whole process. For more information about the details of getting year end savings, read our blog entry about steep year end discounts.
Important Car Buying Topics
We cover the topics below throughout our articles. You will get the most out of the site by reading everything but if you are interested in learning about something specific you can jump right in.
The Best Time for New Car Buying
Many people ask me "When is the best time to buy a new car?" The price you are able to negotiate varies depending on the time of year. Believe it or not, buying during certain parts of the month can get you a better deal. It can even depend on the launch date of a new model year. Read our tips on the best time to buy a car.
Our Visitors Have Saved over $13 million!
The savings reported by our visitors breaks through the $13 million mark, confirming the quality of the free car buying education you receive here. Recent visitors are reporting savings of between $2,000 and $6,000+ off of MSRP on even moderately priced vehicles.
Use our free guide and you'll be adding your savings too! This site is the most complete and balanced car buying guide on the internet. Please read the whole site before going car shopping. If you are really pressed for time, we have created a summarized version to help you. You can read Buying a New Car in 5 Quick Steps.
Save with Invoice Pricing & Competing Bids
We'll review auto buying sites and teach you how to use them to get competing bids to keep the dealers in line. You'll learn how to calculate what dealers pay for new cars and trucks so that you can make a fair offer. You'll learn all you need to know in our new car buying guide.
We have found a source where you can get new car rebate information, secret factory to dealer incentives and new car dealer invoice pricing. This market sales intelligence for your new car is priceless. It is difficult to get this kind of valuable information for free. Click here to learn more.
Not Every Car Salesperson Is Out To Scam You
We've dealt with many honest car salespeople. We're here to educate car buyers and only belittle dealers who lie and cheat. Most dealers care about you and will give you a fair deal if you are educated in the process. They deserve to profit, they have expenses, "mouths to feed," etc. Of course, you do too so your goal is to haggle a deal that is fair for you and the dealer. Treat them with the same respect that you would expect and don't lie. Justify your offers in a professional business manner. The nicest salesperson can still be a tough negotiator. Salespeople who complain we are lumping all car salespeople as "sewer rats" misread the word "some" to mean "all."